Post-Operative Radiation
Oral Cavity Squamous Cell Cancer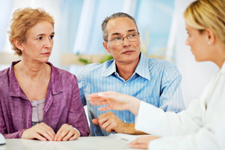 After a patient has surgery for oral cavity cancer, post-operative radiotherapy may be recommended for certain patients who may be at higher risk for recurrence. This calculator will estimate the additional benefit from radiotherapy, based on specific risk factors for a given patient.
Enter the patient details below to calculate the estimated survival based on different treatment options.
This web calculator is based on a lognormal survival model built from a database of oral cavity cancer patients from the Memorial Sloan-Kettering Cancer Center and the Hospital do Cancer AC Camargo, Sao Paulo, Brazil. The model was externally validated on a set of patients from the Princess Margaret Hospital. For more information, see Wang SJ, Patel SG, Shah JP, Kowalski LP, Kalpathy-Cramer J, Thomas CR, Gross ND. A Prediction Model for Estimating the Benefit of Post-operative Radiotherapy for Oral Cavity Squamous Cell Carcinoma. American Society of Radiation Oncology Annual Meeting, San Diego, CA, 2010.